We're really pleased to announce that Piano Perfection is now listed on The Wedding Secret.
As a pianist who has played at literally hundreds of successful weddings and events, I love being part of a couple's special day and making sure that, musically, everything goes smoothly. So, I thought I'd let you in on a little secret…
I've recently been speaking with The Wedding Secret team and am now featured on their website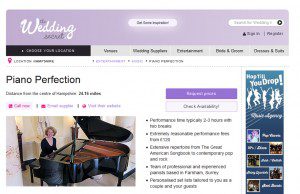 Many, many things go into creating the perfect wedding day, and it can be a struggle to remember it all, let alone find and book it! This is where The Wedding Secret really comes into its own. This nifty little website contains the details for anything and everything you might need for your big day! Whether you're hoping to find a wedding cake maker in Kent, a florist in Hampshire or even a caricaturist in East Sussex – if you need it, The Wedding Secret will list it.
So, while I will take care of the music, The Wedding Secret will make sure that planning your wedding is as easy as possible. I'm so excited to see how many couples will get in touch with me through The Wedding Secret, I hope the website proves to be useful to you as well!