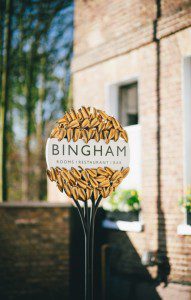 As the Bingham Hotel wedding pianist, I was delighted to set up my digital stage piano in the Ceremony room to play for what has to be the smallest wedding I have ever performed at.
After 20 years together Katie and Jason decided to tie the knot on the anniversary of their first date which fell mid-week on Tuesday 26th May.  With just 19 guests in attendance, they invited their close relatives and friends to an 'anniversary lunch' and then surprised them all with a lovely wedding ceremony.  Even their parents were unaware that they were to marry!  They pulled this off beautifully at the chic Bingham Hotel –  a boutique hotel situated on the river in Richmond-upon-Thames – a wonderful choice of venue for a London wedding.  After playing for the Ceremony, I moved my keyboard to the terrace and continued to play for Katie and Jason's reception drinks right up until their wedding breakfast.
Bingham Hotel Weddings
I have played at the Bingham on many occasions, including with my trio.  If you would like a quote for your wedding please call on 01252 821567 and I'll be happy to advise you on the options we offer and what works best at this beautiful boutique hotel.